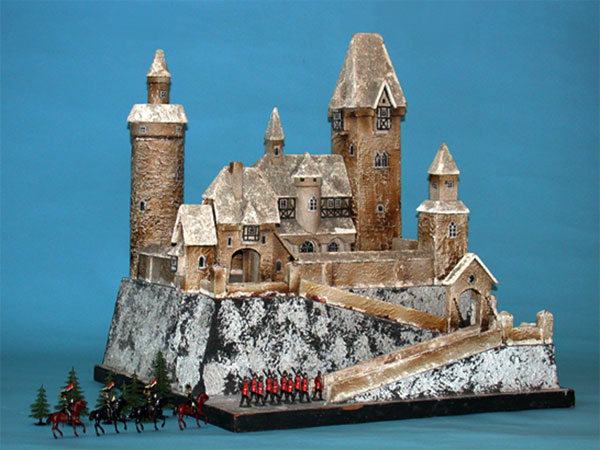 MOKO big grey Snow Castle
HISTORY
Produced by Moses Kohnstam, in Olbernhau, Germany probably just before or just after the First World War.
TECHNICAL DETAILS

24½"(h) x 23½"(w) x 21"(d) 620(h) x 600(w) x 535(d)mm

The castle comprises eighteen building components and a base in the underside of which the buildings can be stored. The buildings, which are almost fully 3-dimensional, are positioned by spikes slotted into holes in the base, or fitted over raised locating pieces fixed to the base. The main construction is wood, small pieces being solid and the larger ones hollow framed. The circular tower is of very strong cardboard tube.

The finishes are strongly textured plaster, engraved to simulate stonework and scattered with quartz sand (or similar) to create a sparkling snow effect. The base is covered with a thin coating of some form of rough composition. General colouring is achieved by ingenious use of spray paint on the buildings, sometimes sprayed at an oblique angle to accentuate the detail, while the base is more crudely painted using a brush. The details are finely hand-painted in combination with spray painted stencilled parts in an architectural style which can be best described as a sort of generic European medieval. Rough random rubble stonework is combined with smoother dressed stone effects, and there are half-timbered features at the upper levels.

To be absolutely correct as far as scale is concerned, this castle was almost certainly made for use with 30mm figures, but it works perfectly well with 25mm and 40mm figures. In all probability, because of its size, many would find it satisfactory for 54mm figures also.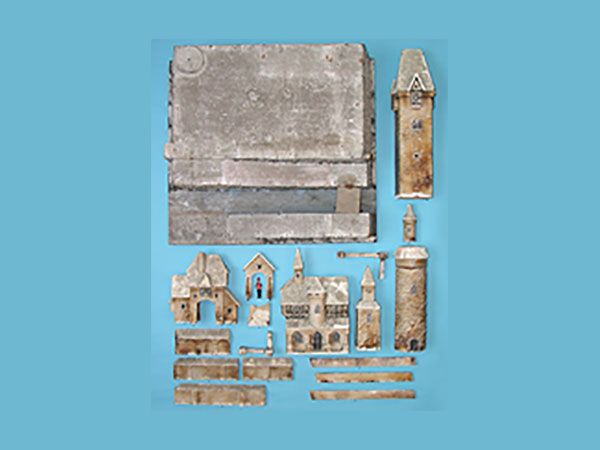 © Dream-Tintoys by Moko-Man [2022]