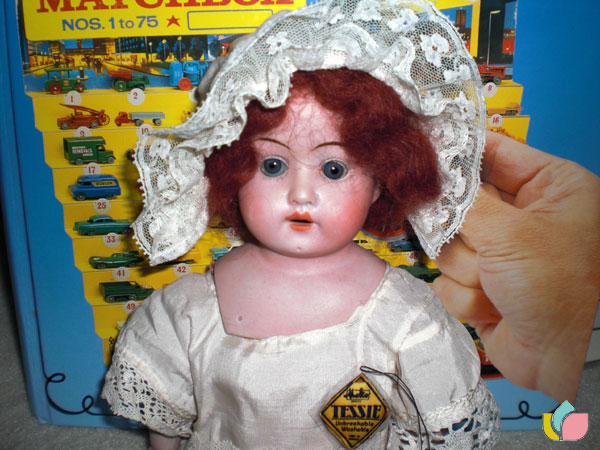 Orginal Antique Moko Doll 1912-1920
ANTIQUE HERMANN STEINER SHOULDER PLATE 14"CABINET DOLL ORIGNAL
A SWEET LITTLE STEINER SHOULDER PLATE DOLL SOFT BODY WITH BISQUE HANDS,THIS LITTLE DOLL IS I BELIEVE ONE OF THE STEINER BROTHERS CALLED WILLI WHICH HE DID FROM FRIBURG BAVARIA 1925 + AND THE MOKO TRADEMARK IS 1910 TO 1925 REG IN GERMANY AND BRITAIN AS PART OF A TRADEMARK BY K&C,THIS INFO IS TO BE SEEN IN THE OLD BOOKS OF THAT TIME,WHICH IS WHAT IS ON THE MARKINGS ON THE DOLLS NECK,STEINER MOKO BAVARA,SHE IS ALL ORIGNAL, WITH LOVELY RED HAIR NO DAMAGE TO HER SHOULDER PLATE HEAD OR HANDS BUT DOES HAVE A MOULD MARK ON THE TOP OF HER NOSE,I HAVE SHOWN THIS DOLL TO A RESTORER AND SHE SAID THIS MARK ON HER NOSE IS A FIRING MARK WHEN SHE WAS MADE TO PUT YOUR FINGER ON IT ITS VERY SMOOTH BUT IT DOES NOT TAKE AWAY ANY CHARM THIS LITTLE DOLL HAS,SHE REALLY IS A SWEETIE AND A NICE 14"TALL SLEEPING EYES THAT OPEN AND CLOSE PERFECTLY AND HER FACE FEATURES ARE VERY GOOD,SHE IS WEARING HER ORIGNAL DRESS WITH MOTHER OF PEARL BUTTONS THAT ARE ON THE BACK ALL THE WAY DOWN BUT A POPPER THAT HAS BEEN ADDED AT THE BACK IS A BIT FRAYED,BLOOMERS,BLACK SOCKS AND BONNETT WHICH ARE IN A NICE CONDITION.



Hermann Steiner of Sonneberg and Neustadt, Germany entered the doll market at the end of the German bisque doll era and began producing dolls around 1920.They are probably best know for their character baby or infant dolls, which were the doll of choice- at that time. A 1921 registered trademark is My Pearl. H. Steiner`s London agent was Boult, Wade & Tennant and in the USA the distributor was Roth, Baitz & Lipsitz.
H. Steiner produced both composition and bisque doll heads -with painted or glass eyes, molded hair or wigged,
a body of cloth, kid or composition.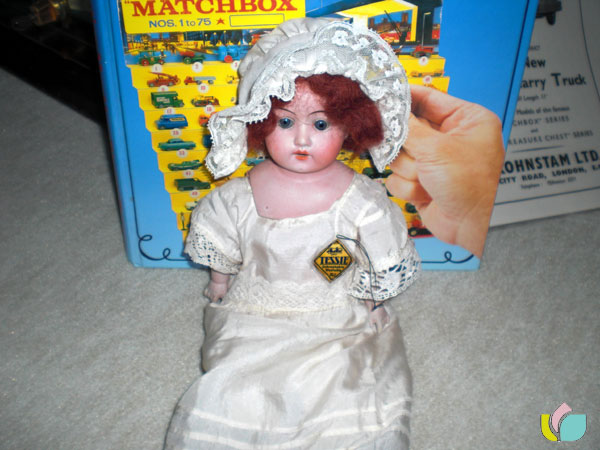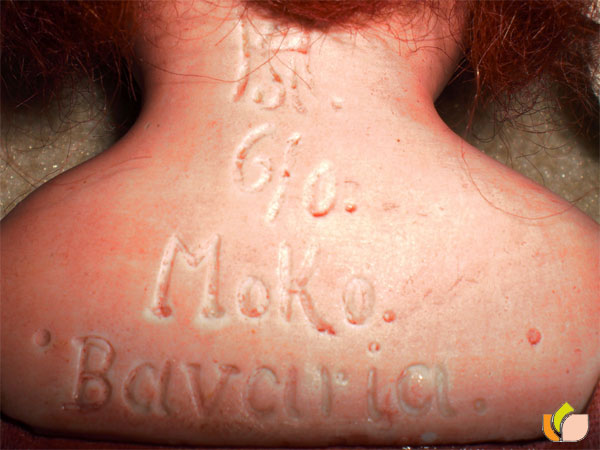 © Dream-Tintoys by Moko-Man [2022]